Shopping Cart
Your Cart is Empty
There was an error with PayPal
Click here to try again
Thank you for your business!
You should be receiving an order confirmation from Paypal shortly.
Exit Shopping Cart
Talk to a P.I. Now

(386) 310-4812
Daytona Private Investigators
"Pulling Skeletons out of Closets Since 1998"
Florida P.I. Rick Raymond's Blog
| | |
| --- | --- |
| Posted on May 6, 2017 at 10:59 AM | |
It's more common than you might think! There are many reasons why someone might place a GPS Tracking device on your vehicle. Divorces, Business Disputes, a Repo tool for Used Car Dealers and Stalkers! 
If you suspect that a GPS Tracking Device has been placed on your vehicle, we can assist you in Detecting, Locating and Removing the device. Detecting a GPS device is not easy because nearly all trackers go into standby mode once the object it is attached to stops moving. These GPS tracking units do this to conserve battery life. In standby mode, the unit is not actively transmitting so electronic detection devices will not pick up any signal activity while the device is basically "asleep".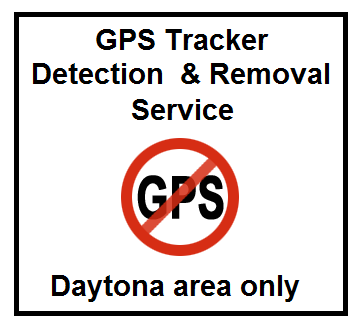 We begin the GPS Tracker Detection process with a physical inspection of the vehicle. We work with and sell these devices so we know what to look for and where to look. Once that step is completed, we take the vehicle for a short drive to determine if an active signal is being transmitted.
​
Should a device be located on your vehicle, we can assist in identifying the type of device, manufacturer and company that supports the device for service. Should you wish to report it to law enforcement, we will document our findings and assist you in reporting the incident.
This service is provided on location at our offices at:
​
                                     553 Ballough Road, Daytona Beach, FL 32114
​
Please call (386) 310-4812 to schedule an appointment. GPS Tracker Detection and Removal Service usually takes about an hour.     
(C) Rick Raymond Investigations - 2017
Categories: None
/